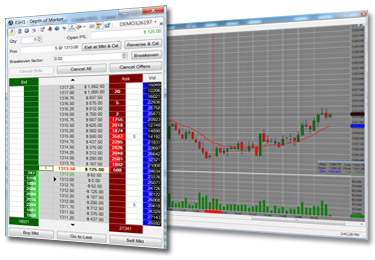 FREE Trading Platform!
FREE Live Datafeed!
FREE Integrated Charting!
$500 Daytrade Margins!*
DOM
The best way to trade, track your futures positions and see market action is through our Depth of Market (DOM) window. It allows for one click order placement of Market, Limit, Stop, MIT, Stop-Limit and even advanced orders like Bracket OCO, Breakout and Trailing Stop orders. Track your current P/L and projected P/L along with seeing level II quotes.
Charts
Our integrated charting is highly customizable and allows you to view the markets in ten different styles including OHLC bars and candlesticks, and has over 100 built-in indicators that are also customizable. Choose from our standard bars or customize the bar intervals in seconds, minutes, days, weeks, months, ticks, range, volume and momentum. View your orders and trade from the charts along with using one of our many drawing tools.
Pillole Generiche Online – Acquista Viagra Professionale Generico 100mg Online – Spedizione Veloce In Tutto Il Mondo – raita-test pillole di viagra professionale da 100 mg
Quotes
The quote window provides fast real-time streaming market data which can be customized to your preferences. You can also set price alerts, easily add or remove new symbols and open DOMs and Charts for symbols you are viewing.
Advanced Orders
Choose from many advanced order strategies to execute your trades like OCOs (One Cancels Other), Brackets, Breakout Brackets, MultiBrackets, Trailing Stops, MOCs (Market on Close), OSOs (One Sends Other), and Icebergs with ease. You can even have orders time released and/or cancelled according to your parameters.
Custom Indicators and Strategies
Write your own custom indicators or systems using C# or allow the trading platform to convert your existing TradeStation EasyLanguage® code to view on our charts or even Autotrade. You can save your indicators to your Library and even publish your indicators to our Store for others to see.
Excel DDE
Link our data directly to Microsoft Excel® which will allow you to view quotes and trade automatically according to your preset formulas in the spreadsheet. All of the functions available in the ApexTrader API are directly accessible in Microsoft® Excel.
Market Replay
You can record market data on the charts and then play it back later in simulated trading mode to review the day's action and try different strategies. You can also play the data back at predefined speeds to allow for faster testing.
Options and Spreads
Pull up option chains for electronically traded futures which will show current bid/ask and even allow you to trade complex option spreads like butterflies, condors, strangles and straddles. You can also place trades for futures inter-market and intra-market spreads.
Online trading has inherent risk due to system response and access times that may vary due to market conditions, system performance, volume and other factors. An investor should understand these and additional risks before trading. Options involve risk and are not suitable for all investors. Futures, options on Futures, and retail off-exchange foreign currency transactions involve substantial risk and are not appropriate for all investors. Please read Risk Disclosure Statement for Futures and Options prior to applying for an account.
*Low margins are a double edged sword, as lower margins mean you have higher leverage and therefore higher risk. All commissions quoted are not inclusive of any fees, unless otherwise noted. Apex does not charge for futures data, the CME charges $2-12 per month depending on the type of data you require. ApexPro is $49 per month.
ApexFutures, 311 South Wacker Drive Chicago, Suite 2280, Illinois 60606